Fusing botanicals into confidence boosting men's makeup and skincare, Adonis London was founded by two brothers with a vision to bring the power of plant based self-care to the modern man. Their product range forges a revolutionary path through the beauty industry. With an earth-focused ethos, they harness the power of natural and organic ingredients that work with the skin, instead of against it.
I go to nature to be soothed and healed, and to have my senses put in order. – John Burroughs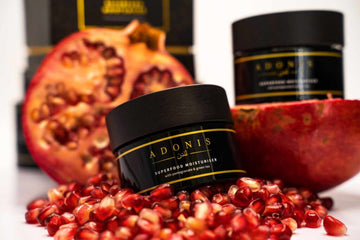 NATURALLY EFFECTIVE
Each meticulously selected ingredient entwines together to form a range of skin enhancing makeup and effective skincare that emboldens men. With the exertion of fast- paced modern life, the all-natural composition of each blend delivers a gentle, but tangible and restorative boost to your skin. Instilling a level of confidence akin to Adonis, the Greek God of beauty and desire.
Unlike many male skincare and beauty brands, our recipe cards consist of 100% naturally derived, cruelty free, vegan ingredients. With no skin irritating chemicals, plastic micro- beads or palm oil to be found.
Look deep into nature, and then you will understand everything better. – Albert Einstein
HARD-WORKING
BOTANICALS
Active ingredients, in their purest form, are ethically sourced from plants around the world and blended into innovative recipes — suitable for even the most sensitive of skin. Botanicals that have been valued for centuries, such as green tea, aloe vera and argan oil, each work in turn to improve skin elasticity, fight signs of ageing and reduce blemishes.
The power of botanicals rests not only in their capability to nourish the skin, but to reduce stress and revitalise the mind. Scented oils and extracts of soothing vetiver, myrrh and neroli are carefully selected to compliment our blends, and restore emotional balance. Bringing the healing power of the natural world into a simple self-care ritual.
This is being free, staying down to earth and nature – Muhammed Ali
MAN ON A MISSION
We understand the importance of modern-day man to look and feel their best every day! Therefore, we want to provide you with the purest & most effective cosmetic products you can find. As the founders we want our products & our business to inspire every person who use Adonis London, and we want to show you that Plant Powered Beauty is the way forward!